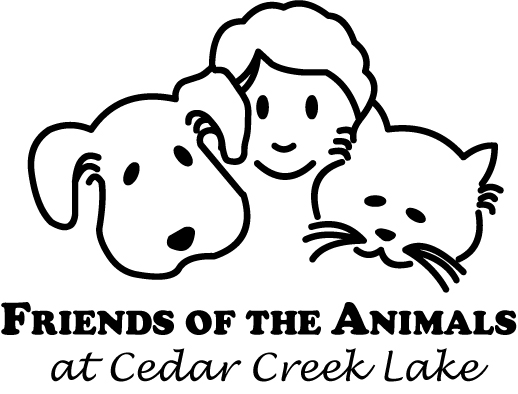 Low Cost Spay & Neuters
Friends of the Animals at Cedar Creek Lake is a not for profit group providing an affordable approach in caring for dogs and cats in the community.
Our community
Friends of the Animals would not exist if it were not for our volunteers, your donations and numerous fundraising events.
Since July 30, 2002, we have performed over 37,000 surgeries and prevented over 282 BILLION unwanted kittens and puppies.
Dr. Glen Campbell
Surgeon-Extraordinaire
Financial Help Available
for Neutering & Spaying
Cats, and Dogs Over 25 Pounds
Next SECOND SATURDAY
vaccination/microchip clinic
July 8 2017
HOURS 10am - noon
We have many furry friends that are in desperate need of a home. Our rescuers are a great group of people that take animals in to their homes. Please take a moment and look at our adoption section
Sometimes our furry friends go missing or you might find one that has lost is way home..
Please send us a picture and we will put it here so they can find their way home
EFFECTIVE IMMEDIATELY
,
there will be a $20 refundable (ask for details) deposit on every appointment for a male or female dog for surgery.

We can accept credit or debit cards for this OR you may come into the clinic on a Tuesday with a check or cash OR there are prepaid cards available at Brookshires, Walmart, CVS and other large stores.

The deposit is refundable ONLY if your appointment is cancelled by 4:00 pm on the Saturday prior to your Tuesday surgery appointment.

If you reschedule your appointment, your deposit goes with that appointment.
Community support is what keeps the doors of the clinic open. Volunteers, donations, fundraisers, and grants are a few of the ways we receive assistance.
We welcome you to contact us!
If you need to make an appointment, check on a service or just wish to donate, please call!
NEW SHIRTS ARE IN!
Beautiful new shirts with the Multi lingual Friends logo are now in.

There are 3 colors Blue, Coral, Orange and all are available in small, medium, large, x-large, xx-large.
Sizes S, M, L, XL - $11 | Size XXL - $13
Available at the clinic on Tuesdays.
FRIENDS
offers low cost vaccines, microchipping, and heartworm testing on a walk-in basis at our clinic every Tuesday from 10AM-2PM and the second Saturday of each month from 10am - noon.
Every pet will receive a free cursory physical exam prior to being vaccinated. This exam is extremely brief and is to make certain that your pet is healthy enough to be vaccinated. Your pet must be bright, alert, and responsive. For a complete, comprehensive physical exam to discuss any problem your pet is having, please see your full service veterinarian. Because our wellness team must look at every pet, we cannot vaccinate your pet while it is in your vehicle. If you cannot get your pet in line for the exam, then we cannot vaccinate your pets.
Hats off to our volunteers. Our volunteers donate their time and energy every Tuesday at the clinic but they don't stop there..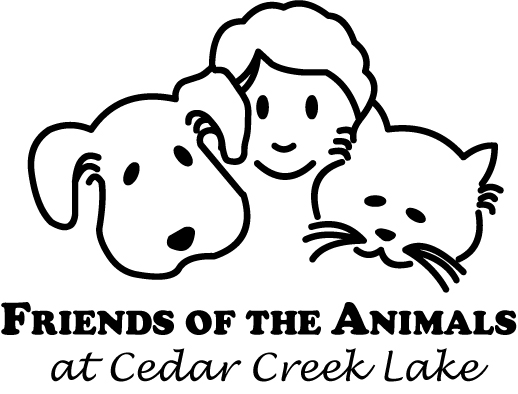 Dr. Glen Campbell, named by D Magazine as one of the BEST VETS IN DALLAS, is the heart and soul of Friends of the Animals. At the helm is clinic director Sydney Busch.
We do vaccinations and other services
every Tuesday from 10AM - 2PM
And the second Saturday from 10AM - 12 noon
No appointment necessary

Rabies vac: $12
Canine or feline vac: $17
(parvo/distemper/etc for dogs - outside cat diseases
Heartworm testing: $25
Microchipping: $22 includes permanent, national registration
Feline Leukemia test $25
Call 903-887-PETS for more info.

There is a refundable surcharge on each service for
those animals not spayed/neutered
Who can believe that in July of 2002 we opened the doors to the spay/neuter clinic and started saving/preventing lives??

We have had so many wonderful volunteers walk through our door - and stay to work! a bunch of people who are still working hard every Tuesday have been with us since day 1...

We have performed over 36,000 surgeries - when you do the math on that, it's staggering...

Dr. Campbell is one of the ones who has been here since we opened...we wouldn't be doing all this without him!

Happy Birthday to Friends of the Animals Spay/Neuter Clinic - and thank you to all who have helped us over the years!
In addition to spay/neuters, the clinic provides shots for patients, holds a couple of shot clinics each year that attract hundreds of pet owners and their pets, does micro-chipping, etc.
Copyright ©2006 Friends of the Animals, Cedar Creek Lake. All rights reserved.
Each and every month Rob & Susie Rea through their Rita's Club Foundation finance spay/neuter surgeries for a dozen or so dogs and cats - THANK YOU SO MUCH FOR HELPING US MAKE A DIFFERENCE!!